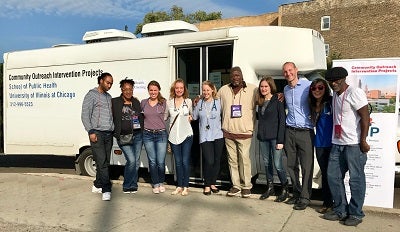 COIP provides a range of educational and training experiences, with a focus on community-based service provision to persons who tend not to engage with mainstream providers.  These training opportunities are offered to individuals both within and external to UIC and include community-based internships, research assistantships, seminars and workshops.  COIP has trained students at all degree levels, college prep high school students, and interns, residents and fellows from diverse disciplines, including public health, psychology, medicine, psychiatry, nursing, social work, and education.
For example, each year, COIP educates nursing students and medical students from the UIC Urban Medicine Program in community-based health care delivery, with an opportunity to accompany COIP staff as they travel throughout the Chicagoland area in a mobile health outreach van. Students interact with community members and learn about the unique problems reported by clients.
COIP also provides internships for individuals outside of UIC, including (but not limited to) minority students from the Student Research Opportunities Program, Americorps, Rush University Occupational Therapy Program, Chicago State University, and Northwestern University's Civic Education Project.
COIP is committed to professional education and training for its own staff.  Staff are encouraged to attend workshops to build their skills and ensure that COIP is a "Safe Zone" for lesbian, gay, bisexual, transgender and gender non-conforming individuals. Other staff trainings are offered through the School of Public Health and the UIC Office of Access and Equity.
For information about volunteer opportunities, please contact:  Antonio D. Jimenez, COIP Director, adj@uic.edu