Phat Life
What is PHAT Life?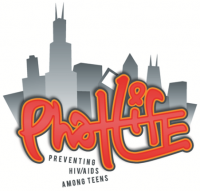 PHAT Life: Preventing HIV/AIDS Among Teens is an intervention designed to help youth on juvenile probation make healthy choices regarding sexual health and substance use. The intervention content provides youth with health knowledge and emotional management skills which help them make healthy decisions. The program is comprised of 8 sessions that are delivered over a 2 week period to small groups of youth.
We deliver the program in partnership with the Cook County Juvenile Probation Department at probation programming throughout the Chicagoland area.
The Research
From 2004 to 2008, we pilot tested the PHAT Life intervention and from 2010-2015 we evaluated the program through an efficacy research study. We observed a decrease in risky sexual behaviors and improvements in mental health among youth who received the PHAT Life intervention. There was also evidence that youth who received PHAT Life were four times less likely to have been put in jail in the year following the study.
Our next step is to ensure that this research produces actual, real-work improvements in the lives of probation youth. Our current research study will work to identify the most effective and sustainable way to implement the PHAT Life program within juvenile justice settings.
Ongoing PHAT Life Grants include:
"PHAT Life: Preventing HIV Among Juvenile Offenders" (R01MD005861) is a 5-year 2-arm randomized controlled trial to reduce risky sexual behavior, substance use, and mental health problems among juvenile offenders on probation.
Principal Investigator: Geri Donenberg, PhD
"Peer Versus Adult-Led HIV Prevention for Juvenile Offenders: Effectiveness and Costs" (R01MD010433)
Principal Investigators: Geri Donenberg, PhD and Steven Pinkerton, PhD
About Us
Our research team, headed by Dr. Geri Donenberg, has been working for over 10 years to deliver the PHAT Life program, a HIV/STI, substance use, and mental health intervention, to youth on juvenile probation. We are housed at the University of Illinois at Chicago School of Public Health and work in collaboration with the Cook County Juvenile Probation and Court Services.
Contact
Our office is located in the UIC School of Public Health building at the corner of Taylor and Ashland. To contact us, please call or email our Project Director, Erin McCarville, at emccar2@uic.edu and 312-996-1014.
The PHAT Life Project
Community Outreach Intervention Projects
University of Illinois at Chicago School of Public Health
1603 W Taylor St. Chicago, IL 60612